Go therefore and make disciples of all nations
Gloria Dei began as a mission start congregation, part of an intentional effort to reach into new and growing areas of the city of Sioux Falls with the good news of Jesus. Mission is in our DNA. In Scripture, we read the words of Jesus at the end of the Gospel of Matthew where Jesus says, "Go therefore and make disciples of all nations, baptizing them in the name of the Father and of the Son and of the Holy Spirit, and teaching them to obey everything I have commanded you." Jesus' command begins with that simple little word, "GO." At Gloria Dei, "Freed by Christ we Gather, Grow, Give, and GO all to the glory of God." So, let's GO Gloria Dei!
Calendar Mission & Outreach
Newsletter Mission & Outreach
Monthly Opportunities to GO!
These opportunities are available on an ongoing basis. Each month we commit to serve again next month. Help us be the hands and feet of Jesus, by signing-up to GO! All Are Welcome!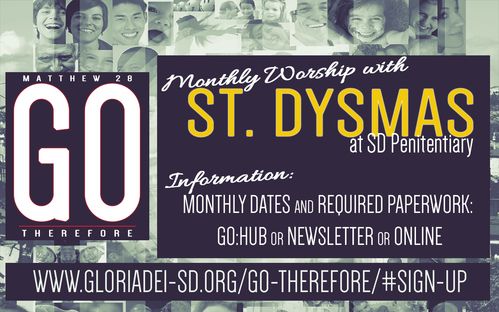 GO: St. Dysmas
Volunteers are suspended until further notice.
We welcome disciples to worship with the inmates at the South Dakota State Penitentiary each month. You will experience a warm welcome and grace will be given and received.
You will need a current background check (good for a year). See instructions on the
sign up
page. Background check paperwork due to
St. Dysmas
in advance for participation in worship. Watch
sign-up
form for upcoming dates to join the inmates for worship, and make note of sign-up deadlines please.
For more information:
St. Dysmas
GO: St. Francis
Volunteers are suspended until further notice.
The Holy Spirit calls each of us to make disciples wherever we go. Mission is driven by the Spirit in our families, our neighborhoods, our community, our state, our nation, and our world. We encourage every member of Gloria Dei to get actively involved in the work the Holy Spirit is calling them to, wherever that may be. As a church, we offer ways to live out that call together. Click the links below to learn more about our many mission partners.
Outreach Ministries of the Month - OMM
Serve the Kingdom on a mission trip
Gloria Dei has a strong relationship with the Lutheran Church of Faith and Hope in Nicaragua. For over 15 years, Gloria Dei has sent a medical mission delegation to work together with the church to provide acute medical care and health education to the population. Check out our past Travel Booklet and check back here for announcements regarding Gloria Dei's hopeful return to Nicaragua.
Click the link to view the
Travel Booklet
and learn about our mission trip.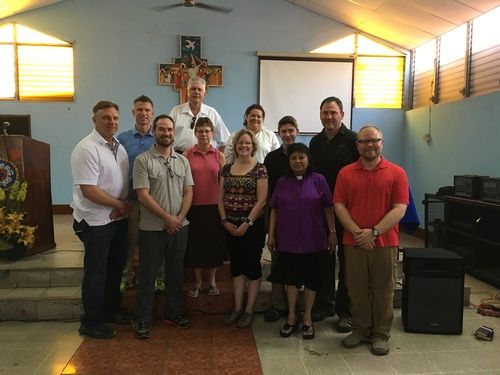 Gloria Dei has a strong relationship with the Du Coin school in Haiti. We are beginning to plan for a trip to Haiti this November. The trip dates will fall in the November 9-18 range.
Anyone considering this trip should plan to attend an informational meeting Sunday April 18, 2021 at 10:00am. Please click button below to let us know you are interested.
>>> TRIP INFO MEETING -- Sunday April 18, 2021 at 10:00am
IN the MEANTIME ... if you've been praying about sponsoring a child in Haiti through our partnership, it just got a lot easier! Take a look at the faces of these children that are still looking to be sponsored at our partner school, Du Coin. Click
HERE
, choose your kiddo to sponsor and then receive their photo in the mail. Your $25 a month can change their world. Questions: email
Pastor Chris