Go therefore and make disciples of all nations
Gloria Dei began as a mission start congregation, part of an intentional effort to reach into new and growing areas of the city of Sioux Falls with the good news of Jesus. Mission is in our DNA. In Scripture, we read the words of Jesus at the end of the Gospel of Matthew where Jesus says, "Go therefore and make disciples of all nations, baptizing them in the name of the Father and of the Son and of the Holy Spirit, and teaching them to obey everything I have commanded you." Jesus' command begins with that simple little word, "GO." At Gloria Dei, "Freed by Christ we Gather, Grow, Give, and GO all to the glory of God." So, let's GO Gloria Dei!
Sunday, June 16, 2022, 6-7:30 TBD
Journey of Hope
is a 501(c)(3) organization that works to inspire the community to spread hope to others; support and partner with local nonprofits that provide mental health and reintegration services; provide a fresh starter kit (includes hygiene items, new socks, snacks, words of encouragement, and local resources) to support individuals on their journey.
Gloria Dei has the opportunity to support this mission - click the blue button below to sign-up to volunteer to help fill the Journey of Hope drawstring bags on Thursday, June 16, 6-7:30pm, at St. John American Lutheran Church (13th and Western Ave).
We are also collecting travel size deodorant and/or travel size sunscreen. Drop off these items in the Gathering Space.
Sunday, June 12, 2022, 4:30-7pm
Volunteers will meet at the parking lot of Raven Industries to distribute meals in downtown Sioux Falls.
Seven Sioux Falls United Methodist Churches maintain a well equipped van that is used to serve a weekly Sunday evening meal in two downtown locations. Gloria Dei has the opportunity to partner with the Nightwatch Van to help ease the pain of hunger in our community by preparing and serving a meal to those in need. Please consider helping this ministry!
Monthly Opportunities to GO!
These opportunities are available on an ongoing basis. Each month we commit to serve again next month. Help us be the hands and feet of Jesus, by signing-up to GO! All Are Welcome!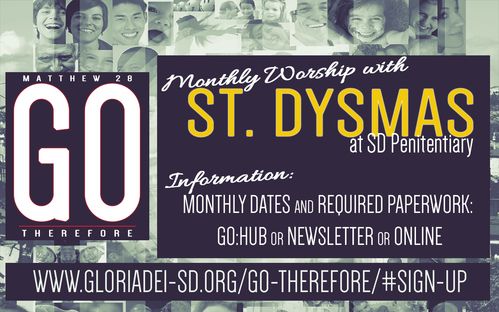 We welcome disciples to worship with the inmates at the South Dakota State Penitentiary each month. You will experience a warm welcome and grace will be given and received.
You will need a current background check (good for a year). See instructions on the
sign up
page. Background check paperwork due to
St. Dysmas
in advance for participation in worship. Watch
sign-up
form for upcoming dates to join the inmates for worship, and make note of sign-up deadlines please.
For more information:
St. Dysmas
GO: St. Francis -- 2nd Sunday of the month, 6:00-7:30pm
Providing free haircuts to those in need in the Sioux Falls Community
Mobile Hair Salon Information
Gloria Dei converted a 24 ft trailer into a mobile hair salon. The trailer is complete with heat and air-conditioning, a curb-side step entrance, a handicapped accessible ramp in the rear, and LED lighting. The trailer has been outfitted with hair salon chairs, a hair washing station, a portable generator, and all the equipment necessary to provide a quality haircut to our guests.
This mobile hair salon is about more than free haircuts. This is about Dignity. It's about being made in God's Image. And it's about sharing God's Grace. Every one of God's children longs for dignity. Every one of God's children is made in God's image and longs to look and feel their best. Everyone of God's children longs to know the grace and good news of Christ. The mobile hair salon will find its place in the Sioux Falls community wherever there is a need to offer dignity, image, and grace through free haircuts.
Request (for non-profits, schools etc...)
Use the button below to request the Mobile Hair Salon at your organization or event. Your request will be reviewed and we will respond as soon as possible. Thank you.
Available for request, March-November (weather permitting)
Water spigot access is a must at requested location
Want to volunteer? Looking for:
Those with half-ton pickup (to haul trailer to location and return trailer to Gloria Dei.)
Stylists
Greeter / Host for the Salon
"What an amazing start to a ministry idea that God has had in the making for a long time. The hugs, smiles, words of gratitude, and the dignity and grace shared tonight were the absolute best! The rockstars of the night were our donors and our team of volunteers, including two AMAZING stylists who went over and above on our first time out!! This could not have happened without all of you. God has blessed us and I couldn't be more proud of all this group of volunteers did tonight!!!"
~Pastor Chris Zuraff
The Holy Spirit calls each of us to make disciples wherever we go. Mission is driven by the Spirit in our families, our neighborhoods, our community, our state, our nation, and our world. We encourage every member of Gloria Dei to get actively involved in the work the Holy Spirit is calling them to, wherever that may be. As a church, we offer ways to live out that call together. Click the links below to learn more about our many mission partners.
Outreach Ministries of the Month - OMM
Serve the Kingdom on a mission trip
Gloria Dei has a strong relationship with the Lutheran Church of Faith and Hope in Nicaragua. For over 15 years, Gloria Dei has sent a medical mission delegation to work together with the church to provide acute medical care and health education to the population. Check out our past Travel Booklet and check back here for announcements regarding Gloria Dei's hopeful return to Nicaragua.
Click the link to view the
Travel Booklet
and learn about our mission trip.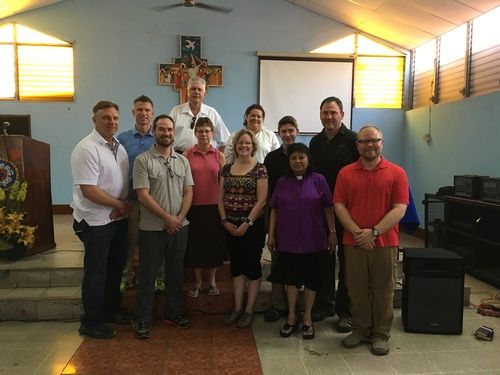 Gloria Dei has a strong relationship with the Du Coin school in Haiti.
>> Due to current conditions in Haiti all mission trip travel has been suspended.

IN the MEANTIME ... if you've been praying about sponsoring a child in Haiti through our partnership, it just got a lot easier! Take a look at the faces of these children that are still looking to be sponsored at our partner school, Du Coin. Click
HERE
, choose your kiddo to sponsor and then receive their photo in the mail. Your $25 a month can change their world. Questions: email
Pastor Chris